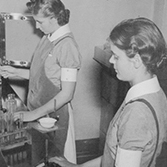 Jean Doan Quinby Memorial Endowed Scholarship
As a young girl living in New York City in the early 1930s, Jean already knew that she wanted to be a nurse, drawn to the profession because of her curiosity for science and interest in how the human body functions. After graduating from high school, she went on to train and received her RN at Hackensack Hospital in New Jersey. Shortly after the end of WWII in 1945, Jean married her high school sweetheart, Kendrick Quinby.
Her son, Dave Quinby, remembers his mom as a do-er. "My mom was soft spoken, but what I grew to learn was that once she got out of the home and into her career she was an important person-she made decisions, she took on leadership roles," he said.
Over the span of her five-decade career she provided compassionate patient care in private practices and hospitals, including the emergency room. In the 1960s, she served as director of the El Paso Community College School of Licensed Vocational Nursing in El Paso, Texas. During her tenure there, students in the program achieved three of the top ten scores in the state of Texas, and the school's average score was 30 points higher than the state average.
After retiring in the late 1970s, Jean and her husband moved to San Marcos but Jean soon realized that she was not well-suited for retirement and decided to return to her beloved profession. From 1978 until her second and final retirement in 1992, she was the charge RN at Redwood Terrace Senior Living in Escondido where she earned the titles of Employee of the Month, Quarter, Year and, ultimately, Grand Employee of the Year.
Impact
After her passing in 2014, Dave and his wife, Linda, decided to honor Jean's life and legacy with an endowed scholarship for continuing nursing students at CSUSM. "She would be quietly thrilled, touched and surprised-she would never have expected this type of honor," said Dave. "She lived in San Marcos for 29 years and watched with interest as CSUSM was built. It made sense to honor her in this way."
"We also knew that we wanted to help students who might not have a chance to succeed without a little financial support," said Linda. "It felt like the right thing to do at the time-and then afterward, we realized it felt really good to give too."